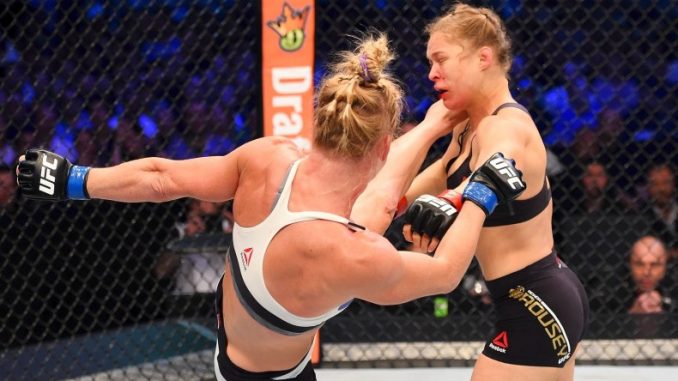 By William Vandry
UFC 193 has come and gone.  The highly rated UFC star Ronda Rousey has been marketed as practically invincible, and unbeatable.  In a surprising upset, Holly Holm KO'ed Ronda in round two with a vicious series of combinations, damage and a leg kick to the head.  Ronda was a 20-1 favorite, and Holly a 10-1 odds as an underdog.1
What happened?  First, the audience draw was a hit in Australia.
Attendance and Gate
It was a record setting night for the UFC as the announced attendance was 56,214 with a gate of $6.8 million (U.S.).  It did better than UFC 129 which drew 55,724 in Toronto.  However, the gate did not exceed the 55,724 in Toronto, and capacity in Australia was 70,000 seats.  Comps are not known, as Darren Rovell tweeted, 'there were many comps for the event although the UFC no longer reports on the number.'2
Ronda has been promoted by the UFC as the woman who changed and opened the doors for women in MMA.  Although the UFC marketing Ronda has had good publicity, Ronda was not the woman who got the public eye for women in MMA.  That credit goes to Gina Carano.  Gina was (and still is) very popular when she fought in Strikeforce, a Showtime event that the UFC later purchased.  The 2009 Carano vs. Santos main event itself did a 2.9 rating and 856,000 viewers, adding 17 percent over the audience from the preceding Gegard Mousasi vs. Renato Sobral light heavyweight title match.  The Carano vs. Cyborg event set a new MMA ratings record for Showtime.3
Keep in mind even Ronda as a guest on "The Joe Rogan Experience" and admitted that Dana White made her an offer to fight Carano in December 2014.  Rousey stated she didn't want to wait that long, and the fight never materialized.  Even the UFC still sees Gina as a draw.  UFC 100 averaged two million viewers, and it's 1.8 rating (513,000 viewers) was the highest-rated program in the male-18-34 demographic during its timeslot.4
UFC owner Lorenzo Fertitta stated UFC 193 on Yahoo Sports claimed it may be one of the top ratings, although he still has not actually confirmed numbers:
"It is currently third, Fertitta told Yahoo Sports on Wednesday, and is on pace to finish behind only UFC 100. The Rousey-Holm fight sold in excess of one million on pay-per-view, though Fertitta would not confirm a specific number."
The UFC gained more draws as 2015 was a better year, although in 2014 rates, PPV order prices were increased.  The top draws in the UFC history has been GSP, Brock Lesnar, Randy Couture and Anderson Silva.5
UFC 193 Fox Postfight Show reached more than 860,000 viewers total.6
It seems viewers who either watched and did not watch spiked an interest on the upset.
Holly Holm's background
Holm (34) turned to professional boxing in 2002 after an early stint as a kickboxer and has an impressive record of 33-2-3 (9 knockouts).  In 2011, Holm suffered a rough defeat in a seventh-round knockout loss to Anne Sophie Mathis.  Holly went back to her training and gameplan.  In a rematch with Mathis six months later, Holly won a unanimous decision.  Holm then migrated to MMA, and is now UFC champion.7
Holly deserves a lot of credit for her hard work against Ronda, but also in her career.  Many picked her to lose, even her teammate Sarah Kaufman did on mmajunkie.com:
"I train with Holly and she's fast, she's powerful and she picks things up fast. I want to stand behind my teammate. It's almost impossible to say she's going to come out with the win, but I do think Holly has the ability if she comes in and fights the right plan to make it a very tough fight and potentially get that win. I want to stand behind her."
In Ronda's fights, her toughest one before Holm was Miesha Tate II.  Miesha is very tough, and also deserves all the credit.  Miesha is not as refined in striking as Holly, and Holly is tall, lanky, good footwork, and can shut down takedowns.  I told one of my black belts about two weeks before the Rousey-Holm fight that I felt the UFC expected Ronda to beat Holly on the ground, but stated to him that I thought Holly was going to frustrate Ronda, outbox her, and if Ronda couldnt get her down it would be over in Round 2.  The reason for second round was Ronda's fight with Miesha II.  In that fight, both were exhausted after Round I, and Ronda is a finisher who gives it her all.
Ronda's critics
Ronda has received critics from her own community.  Ronda's former manager Dave Harvey, who did file for bankruptcy stated:
"I created a monster,'' Harvey said.  She believed she was as special as the press made her out to be.  They give me absolutely no credit for the success of her career. She's not a good person. You don't forget where you came from.''
Harvey said his relationship with Rousey ended after Harvey refused to accept "status quo'' terms from the UFC when negotiating a contract for the fighter. That took place almost two years ago, but Harvey said the emotions were still raw during and after Rousey's fight against Holm.8
Donald Trump tweeted: "Ronda Rousey is most definitely a loser.  Glad to see that Ronda Rousey lost her championship fight last night," Lady Gaga added her two cents with, "That's what you get for not touching gloves!".
 Ouch.  UFC boss Dana White stated thats the way Ronda is.  Dana White spoke about Rousey's reputation with reporters after UFC Fight Night 32 (From SB Nation):
"…It's not the way she portrayed herself; it's who she is…She's what it took to get women in the UFC. Hate her or not, the reason all these girls fight in the UFC is because of her. … the thing is, with her and Miesha, she hates Miesha Tate. When she and Cat Zingano were gonna be the coaches, you heard them talk on the podium, the mutual respect. She hates Miesha Tate. Hates her. And anyone who's ever hated somebody before knows how that feels. I've hated a few people in my life so I know how that feels. Yes, when you hate somebody, you might stoop low and do some things that make you look like a jackass. But, oh well…"9
White also said he felt Rousey would have had more to answer Holm's attack:
"The fight went down the way that I thought the fight would go down. I thought Ronda would have more answers.  Every time someone goes on a win streak and do things forever and then they lose, people say they were exposed.  I don't think Ronda was exposed tonight. She just got beat."10
I don't think Dana thought Ronda was going to lose.  I think Ronda has been so dominant with her particular style of Judo and boxing that she never expected to get beat at both.  But this happened before, in the men's division.  Judoka  Karapet "Karo" Parisyan did well in his early UFC's with his Judo, and had a general rounded game.  Parisyan lost via TKO to Thiago Alves at UFC Fight Night 13 in the second round.  Ronda's opponents have not been of the caliber as Holly.  In all fairness, Ronda did not quit, or give up, she kept her game plan.  But her plan has been the same for al her fights.  She strikes enough to get close in, gets a Judo throw, then either submission or strikes.  Ronda did not have Holly's striking skills, and it seems Holly has done good job grappling as well.  Remember Ronda tried a throw and was sort of suplexed on her back.  I think Holly did not do a Buster Douglas miracle KO against Mike Tyson type victory.  That was the best Buster Douglas ever fought and lost to Evander Holyfield after.  Although this was Holly's greatest performance and challenge, she did what is her normal game.  And she may be with the exception of Cris Cyborg, the best striker in female MMA.  It wasn't a lucky day, it was her game, and her training.
Opponent's experience vs. Ronda
Although hostility was promoted between Ronda and Bethe Correa, Correa had a relatively short career in MMA.  On ozy.com, it shows Correa was going to school to be an accountant, felt that she was gaining weight and wanted to get in shape:
"Hard to believe just a few years ago she says she was a chubby, married accounting student. The youngest of four, Correia grew up stubborn and "hot blooded," the daughter of a banker in the Northeastern interior town of Campina Grande. She enrolled in school to become a number cruncher, got hitched, and "started getting fat, like all women do after they marry," Correia jokes, during her exclusive interview with OZY. But then, something changed."11
Correa made her MMA debut in 2012.  In defense to Ronda, it was very personal, and totally uncalled for when Correa made a joke abour Ronda's father commiting suicide in an interview with the Brazilian news outlet Combate.  (Rousey's father took his own life while she was an adolescent after suffering for years following a traumatic and debilitating back injury)
Correa stated:
"Under pressure, she is proving weak. When her mom put pressure on her, she ran away from home. When she lost, it was because of drugs. That's not a superhero"
"She is not mentally healthy. She needs to take care of herself. She is winning, so everybody is around her cheering her up, but when she realizes she is not everything that she believes she is, I don't know what might happen. I hope she does not kill herself later on (laughs)"
Although Correa posted online an apology, that cruel disrespect for a family death with Ronda has no place in sports or in general.  Ronda stopped her in Round 1.  Cat Zingano was a potentially good fight with Ronda.  However, Cat felt she needed to change her game an overstepped a knee, and fell to a position where she was armlocked.  Alexis Davis seemed to be totally out of her element against Ronda.  Both of these fighters have more potential than they showed, but at times a fighter can take another out of their fight.  I though Cat was going to use her striking skills against Ronda, which would have been a good strategy.  Holly even stated you have to have confidence in your game.
Competition can be stressful, and pressure can make athletes say certain things.  Ronda has been very controversial, and has said many insulting statements.  Is the media and fans going really hard on her?  Yes, they very well may be.  Was this fueled by Ronda's personality, and public statements?  Absolutely.  When Miesha Tate lost, no one bashed her, or felt she was arrogant or deserved any attacks in general.  When Gina lost to Cyborg in 2009, she graciously accepted defeat, and people still love Gina, her personality, and popularity.  She very well may still be the most popular female in MMA, although Holly is getting right there too.  What comments has Ronda said in the past that may have fueled anger to fans?
Ronda's past offensive statements
1. Ronda Rousey was on a program called Attack of the Show.  On the show Ronda stated she could kill every person in the room with her bare hands:
"I think I am the most dangerous unarmed woman on the planet. [Looks to audience] I could literally kill every single person in this room with my bare hands if I had them one at a time. I wouldn't do that, but I'm just saying, I could do it."12
 2. In an interview, Ronda asks the reporter who his favorite fighter is, when he states that his is GSP, Ronda attacks GSP:
"If you never saw MMA before, and you walked in and you saw GSP and Koscheck, and all this jabbing out the whole time, it looks like a boring boxing match. And I don't think you gain any fans with a fight like that. And so I really hope that Nick Diaz beats the crap out of him, because Nick Diaz is entertaining, and he's an entertaining character in general…GSP was good for the sport for a while. He brought in some big sponsors like Gatorade and UnderArmor. But I think he's done everything he can in a positive way and he needs to step aside and let Nick Diaz kick his ass."13
3. Nancy Armour writing for USA TODAY Sports, was very tough on Ronda's comments:
"Rousey fell victim to the same trap. Caught up in her own hype, she took the over-the-top arrogance to the extreme: demeaning her opponents, manufacturing vendettas, threatening to beat up Kim Kardashian or anyone else who annoyed her.  Even when it was reasonable to question whether an incident with an ex-boyfriend was domestic violence, Rousey was self-righteous in her dismissiveness."
"She feels nobody has the right to challenge her," said Harvey, who worked for Rousey during her meteoric rise and is now suing her over a contract dispute.14
4. In TUF 18, Ronda lost a rock climbing challenge against Miesha Tate.  After Tate won, Ronda angrily flipped her off.
5. Ronda attacks UFC ring girl:
"..Arianny Celeste is a ring girl for the UFC. Ronda bullied Arianny for a while.  The start of this was a Maxim's female 100 list.  Arianny and Ronda were in this list, and Arianny was listed higher/hotter than Ronda.  Ronda got raked about this in an interview, and she started s—talking and bullying Arianny ever since.  This is also the origin of Ronda's famous 'Do Nothing B—h' labeling.  She said that girls that look like your typical model don't have any personality or intelligence, and all they are good at is f——g millionaires.."15
6. In 2013, Ronda stated she felt she could beat Cain Velasquez:
"You cannot tell me that it is physically impossible.  It is possible that in any given moment, I could beat him.   I always believe in my possibilities."16
7. Ronda stated before the Holm fight how she plans to go to Hollywood after beating Holly in a KHON2 interview:
"I've been doing three title fights back-to-back in the last nine months, and while I'm in camp I'm pretty much all cut off from the Hollywood world, so after I'm done beating Holly I'll have a chunk of time when I'll be able to entertain that whole world and see what's going on and spend a lot more time on that."17
8. Ronda's Instagram post on Holly and her offensive comments were also unwarranted:
"…rondarouseyFake ass cheap shotting fake respect fake humility bitch – "preacher's daughter" my ass – I see through your fake sweet act now – you're getting your ass kicked tomorrow, and I'm really going to enjoy the beating I give you #andSTILL.."
Holly Holm acts professionally and deserves her credit.  How did Holly react?  Holm Skyped in to the "TMZ Sports" TV show (Monday at 9PM PT on FS1) — and said she actually feels bad for Ronda, who's been ripped by everyone from Lady Gaga to Laila Ali:
"I think people can be pretty brutal," Holm said … "and when you're in the spot shes in, there are people that are just going to jump ship and I don't ever wish for that."
She added,
"I have a lot of respect for her."18
She even stood in concern after knocking Ronda out, and you could sense the clear compassion for her fallen opponent.  She also gave credit to her camp, her husband and family.  She never said one thing about herself besides developing confidence.  Some of the most beloved MMA fighters are people like GSP, Shogun, Machida, Couture and others who never attacked opponents personally, they acted like athletes, the same way fighters such as Rocky Marciano did.  Rocky Marciano had Jersey Joe Walcott on his TV show.  Marciano  had defeated Walcott, yet respected Jersey Joe and told him he was needed in boxing.  He gave Joe a golden glove award and praised Jersey Joe:
"..Thank you Joe, and winning a title from a guy like you means a lot to me…Two words Joe, keep punching.  I have a little reminder here.  For you and your may friends who may see it.   A pair of golden gloves.  My good luck charm.  My way of saying keep punching Joe.  My way of saying thank you for being on the show.  I also want to thank you very much for coming on the show and being so good.."
You can watch the Rocky Marciano interview TV show on the link below.19
That's Marciano's spirit and class through Holly Holm.  Let's hope Ronda recovers, and is back in the ring.  Ronda probably will not change personality, but she may be more reserved in the future.  Good luck to her and congratulations to Holly Holm!
Sources:
1. http://linemakers.sportingnews.com/article/4660937-ufc-193-odds-picks-ronda-rousey-holly-holm-betting-line-vegas-undercard-prediction
2. http://mmapayout.com/2015/11/ufc-193-payout-perspective/
3. http://mmapayout.com/2011/04/strikeforce-diaz-vs-daley-peaks-at-806000-viewers/
4. http://mmajunkie.com/2009/08/strikeforce-carano-vs-cyborg-draws-576000-viewers-ufc-100-replay-nabs-two-million
5. http://mma-manifesto.com/root/ufc-ppv-data-root/top-selling-ufc-ppvs-of-all-time.html
6. http://sports.yahoo.com/news/holly-holms-ufc-193-ko-ronda-rousey-leads-235417303–mma.html
7. http://ringtv.craveonline.com/news/404047-ronda-rousey-holly-holm-what-it-means
8. http://www.usatoday.com/story/sports/ufc/2015/11/15/ronda-rousey-holly-holm-former-manager-knockout-win/75831534/
9. http://ftw.usatoday.com/2013/11/ronda-rousey-ufc-miesha-tate-popularity
10. http://www.news.com.au/sport/ufc/world-reacts-to-rouseys-shock-loss/news-story/493077fac93d95cc64829b149423b9a5
11. http://www.ozy.com/provocateurs/bethe-correia-the-undefeated-dark-horse/61188
12. http://www.cagepotato.com/quote-of-the-day-ronda-rousy-i-think-i-am-the-most-dangerous-unarmed-woman-on-the-planet/
13. http://www.cagepotato.com/damn-ronda-rousey-has-some-harsh-words-for-gsp-video/
14. http://www.usatoday.com/story/sports/ufc/2015/11/16/ronda-rousey-holly-holm-loss-arrogant-trump-miesha-tate/75900678/
15. http://imgur.com/gallery/LnAeZ
16. http://www.upi.com/blog/2013/11/13/Ronda-Rousey-I-could-beat-heavyweight-champ-Cain-Velasquez/6901384357713/
17. https://www.thewrap.com/ronda-rousey-ufc-chael-sonnen-kenny-fiorian-hollywood-roadhouse/
18. http://www.tmz.com/2015/11/16/holly-holm-ronda-rousey-trash-talk/
19. https://www.youtube.com/watch?v=QmTbegp3j7c