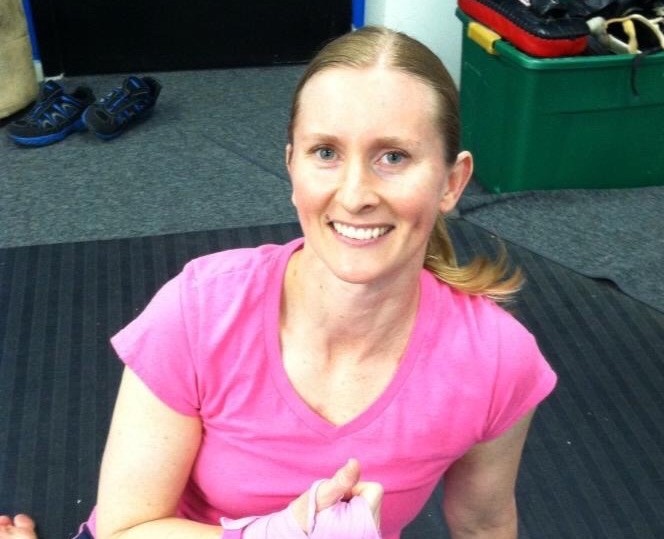 By Chandra N. Vandry, RN
BJJ can be tough on your joints, especially knees and shoulders.  I hear a lot of groaning about knee and shoulder pain on the mat and I am always surprised when I ask if they do any weight training, that the answer is no.
In addition to the proper minerals and collagen supplements, one of the best things you can you do for your joints is weight train.  Joints like shoulders and knees are surrounded by supporting muscles.  When any one of those muscles is weak, stability of the joint is compromised and you will be more prone to injury.
I learned this lesson first hand in college when I injured my knee.  It took 6 months of physical therapy to get back to normal, and weight training was a big part of that recovery.
I weight train once a week even though I think weight training is one of the most boring things in the world.  I feel the same way about the treadmill and elliptical machines; that is why I train BJJ and kickboxing for exercise!  But, as far as your bones and joints are concerned you have to do weight bearing exercises.  Weight bearing exercises will also prevent osteoporosis as you age.  So tedious or not, you should find time to do it.
Weight training does not need to be a long drawn out affair. You don't need to do separate days for lower and upper body unless you are bodybuilding.  I get in, do the entire body, two sets of ten on each machine, and get out.  I don't do super heavy weights, just enough so I can comfortably make it through both sets.
For the knees you need to make sure and hit the hamstrings (most important), quads, and inner and outer thighs.  I actually stay away from the leg press as I find it puts an uncomfortable amount of pressure on my knees.
For the shoulders, it is important to work the rear muscles, particularly lats and delts.  Pretty much every thing we do all day; sitting at a computer, driving, eating, rolls the shoulder forward, so weight training should focus on the exercises that help pull the shoulders back.  I always do the rows, lat pull down, as well as the chest press and pull ups, then the free weights for biceps and triceps.
I do ten minutes of warm up, five minute cool down the on the treadmill, and some stretching and am done with the whole work out in less than an hour.  There is no need to do multiple reps on each machine, for making it quick keeps it from getting too boring.
If you train BJJ, I highly recommend you find one day a week to add some weight training, your joints and bones will thank you for it in the long run!
Chandra N. Vandry, RN