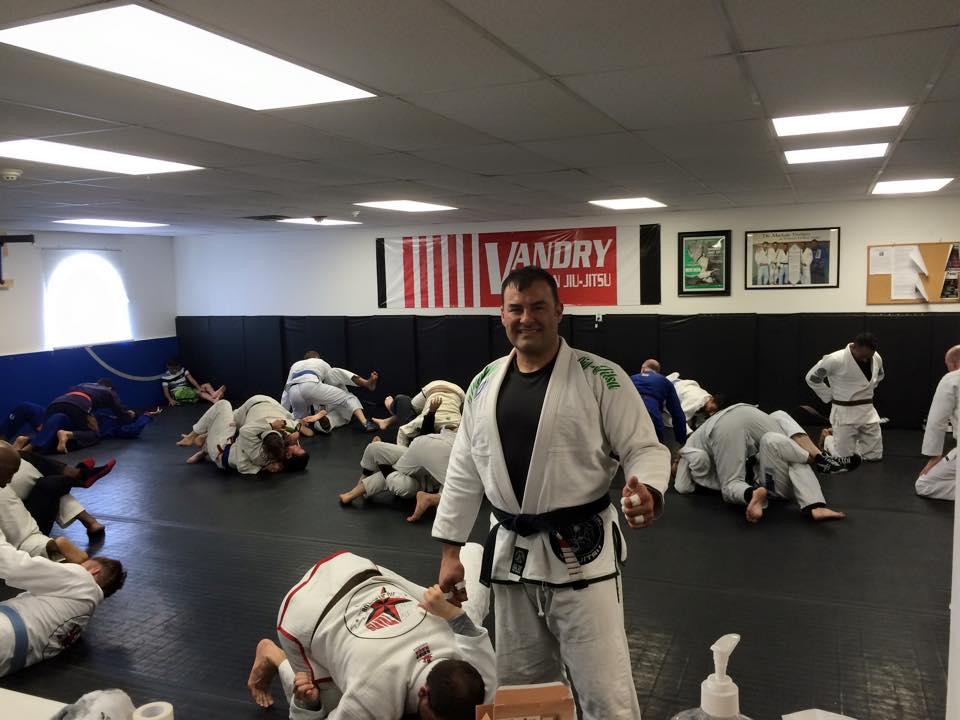 "On this earth, we are here to do things and trust in the big guy upstairs (God).  I am so happy, healthy and I feel I am here to be a good service to our fellow man."
– Professor William Vandry 6th degree Black belt BJJ (Machado)
Professor William Vandry is a 6th degree Black belt in Brazilian Jiu-jitsu under Master Carlos Machado and the Machado brothers.  In BJJ, a Professor is not simply a Black belt.  A Black belt is considered a fighter level, and a 3rd to 6th degree is an actual Professor or a level that has been authorized to grant a black belt. A 7th, 8th and 9th degree is a Master and a 10th degree Red belt is a Grandmaster in the art of BJJ.
William Vandry met Carlos and John Machado in October 1995, and has trained with them and in the art of BJJ ever since.
In 1996 Master Carlos Machado nominated William Vandry as his first and longest running representative to teach and spread Jiu-jitsu in the state of Texas, and one of the longest RCJ Machado BJJ representatives in the USA.  William Vandry originally taught in Killeen, Texas, and started the Killeen-Ft. Hood civilian and military competition team.
Vandry also has coached one of the most successful teams in Texas to many team points overall in many tournaments from 1997 to this day.
In 1999, Vandry relocated to his Vandry BJJ academy in Austin, Texas.  He began teaching and formed his headquarters.  In 2000, Vandry formed his VCATS program (Vandry Combative Arrest Tactics and Strategies) for all law enforcement officers, security or DPS troopers.  Vandry has taught private clinics to many law enforcement agencies and continues to this day.  His research on LAPD death statistics gave him theories to develop for all branches of law enforcement techniques.  Vandry has received awards from law enforcement:
DPS award, and Vandry teaching his VCATS law enforcement course of hand to hand drills and techniques to law enforcement officers
Who is William Vandry, Vandry BJJ or Vandry Brazilian Jiu-jitsu, and what do established Black belts have to say or endorse about him?
Endorsements from the world famous Machado brothers on William Vandry:
Comments from Master Carlos Machado (8th degree Black belt BJJ) on William Vandry: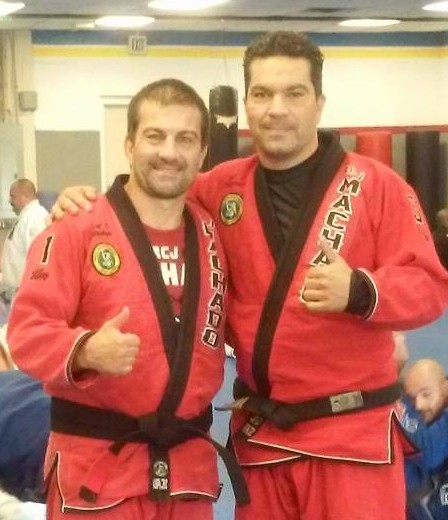 Carlos and John Machado
"William Vandry epitomizes the true meaning of Jiu Jitsu.  Through his humble, yet unequaled dedication, he has been able not only to reach an incredible level of mastery, but an even more remarkable ability to overcome obstacles.  As an educator, the quality of his students do the talk.  His example serves as inspiration to me.  After all these years in the martial arts, I can surely say my black belt William Vandry is one of the most amazing student and individual I have ever met!  I am honored to have him as a friend, and very proud of what he has become!"
"William Vandry is a black belt with superb skills and trick leg locks. William has competed in multiple Pan American tournaments, winning Gold and Silver medals. Even I have learned from the intricate game that he has developed"
"Hey, my brother! (William Vandry) As always your technical knowledge is immersed in great wisdom. It is refreshing to see that I built a disciple who grows not just in the nuances of the art, but who also cultivates the spirit in it. I am blessed to have such an awesome Black Belt student, and yet an instructor and educator with a wisdom that I both share with and learn from. Keep those blogs coming!")
"His (William Vandry) Austin-based gym is a hotbed of refined students who often compete for the Machado Team at different tournaments in the U.S"
"I want to drop a line and thank all Vandry BJJ students for their great support last weekend. My brother Rigan and I were honored to have such a wonderful crowd. Thanks to brother William as well for opening the doors for us!"
"Dear Vandry BJJ Friends, Students, and most importantly, disciples of a true community in the martial arts Machado Lineage. I want to thank each and every one of you for your continuous support to your instructor, to my family, and to the principles of what we strive for. Dedication, loyalty, and respect. This is a long-term relationship that will last for generations to come. And I am proud to say you are part of it!"
"We talk a lot (Carlos and William), he has a lot of good ideas, and we exchange.  He is very innovative in the way he trains, and he has developed a lot on things very unique that on his his own research of Martial Arts it was almost like I have had the privilege to know William for almost ten years and he always been part of my life and is also one of my best friends."
Comments from Professor John Machado (7th degree Red and Black belt BJJ)
"With William, he was really tested. With his accident (overcoming a severe head trauma in 1997 and returning to BJJ) we knew William before, he was already training with us.  And to be put in his shoes is beyond anything."
"How he (Vandry) came out of this (head trauma and back into competition years ago), I think is an example for everyone (overcoming and returning to BJJ), he became the teacher."
"He is amazing!"
Masters Rigan and Carlos Machado awarding third degree to William Vandry years ago
Comments from Master Rigan Machado (8th degree Red and Black belt BJJ) on William Vandry:
"Brother Vandry! Thank you for the opportunity to meet so many nice people among the students who are part of your academy! Carlos has made you a great martial artist, but your talent has brought you to a level that few people might experience. You inspire others as you pass the teachings we learned so closely from our relatives. It is a history that continues to this day, not only of building, but preserving a legacy that will reach far into the future. We are all making it happen right now! Now, go train some more!! Does some of the X guard drills you learned when you visited me in California, some years back! Make sure you thank the BJJ doctor Jeff, Richard and Marshall. They took good care of me, but I will still make them do the push ups if they mess up on the drills! Take care, my brother!!"
Comments from Professor Roger Machado (6th degree Black belt BJJ)
"Good technique (On William's moves), keep up the good work!"
BJJ Black belt endorsements for Professor William Vandry
"I've been training Brazilian jiu jitsu for well over a decade and in that time I've been able to meet a lot of really talented people. And many of them had some great techniques and systems. However, I've never met someone who so fully understands jiu jitsu the way William Vandry does.
It's not just his formidable skills on the mat that makes him so impressive. It's his ability to analyze seemingly every aspect of the game. Any situation you can think up, he's already thought of, processed and come up with several solutions. And what's more, his answers will be customized to the practitioner's particular style. There are those that can do and those that can teach, but rarely do you meet someone who can do both so much better than everyone else.  I was honored to become William's black belt in September of 2009 and no matter where I end up in the world, he will always be my teacher."
Carter Fisk (Purple belt under Eddie Bravo, received brown and black from WV)
VBJJA Black belt
"Back in 2003, I was looking extensively for a Brazilian Jiu-jitsu Instructor in my area. At the time there were no Black Belt Instructors in the Rio Grande Valley. I met some instructors around Texas but their goals were not parallel to my own. I really wasn't looking for a belt factory or an instructor that could hand me a belt just for knowing him. What I was looking for was great quality instructor that I could learn from and help me progress through the Brazilian Jiu-jitsu system. It wasn't until I met William Vandry that I got to see what a true pioneer of the art he was. The day I met him I was amazed not only at what he was teaching but also at the level or quality of students his school was
producing. From that moment on I knew that I had to learn his unique style of Brazilian Jiu-Jitsu. Through the years not only did I find myself overwhelmed with knowledge but, I really think that William has promoted me fairly through the ranks. Even now that I am a Black Belt I still find my self intrigued with his high level of Jiu-jitsu. You see, with so many fads and so many styles coming out these days there really is nothing that William has not covered during one of his trainings. William is considered to be a pioneer and innovator of his own techniques. His unorthodox style makes his system different yet very effective. That said, to this day not only have I competed and won at every belt level from white to black, but I found my coach, a great friend and mentor that I highly respect and treat like family."
Emmanuel Jose Galvan,
VBJJA Black belt
"I have been training with William for ten yrs. now. I look at him as a mentor/master instructor in Jiu Jitsu and as an older brother, although I am actually older than he is in years.  William sees all the angles and has a fine mind for BJJ instruction. I have to have a hands on approach and actually perform the techniques before I truly understand them but Will can conceptualize the techniques and see them in his head before he puts the gi on. He is creative in other words and although he stresses mastery of the basics he definitely has his own style and interpretation, which he passes on to his students. Aside from being a master teacher he stresses school camaraderie and loyalty to our Jiu Jitsu lineage. He creates an atmosphere at his school which can accommodate both the competitor and the casual student."
Gary Claxton,
VBJJA Black belt, multiple state BJJ champion, Jean Jacques Machado Grappling games national champion, Mundials no gi world champion
"Having "seen it all", I can state without reservation that William Vandry is one of the best instructors with whom I have ever trained.  He has taken the time and effort to build a very unique teaching and training environment whereby the focus has always been on knowledge, training, and improvement according to one's own preference and pace.  Some people are interested in competitions, some people are more interested in the fitness aspects of the sport, and some are focused on the pure art of BJJ.  But all are treated as equals and the result is camaraderie within the school that is unparalleled, led by a teacher with a technical and educational grasp of BJJ that I have rarely encountered, while also serving to inspire.
I can honestly say that I learn something new each and every session, and it has been an honor to be part of such an incredible academy for the last 10 years.  As I stated previously, I have "seen it all" and would prefer to train nowhere else."
Rob Furlano
VBJJA Black belt
"I have known William for 8 years and have been impressed with his skill and expertise since the moment I met him. William is truly a master of his craft and is constantly exploring new angles and techniques not only for himself but his students.  William embodies everything one would hope to be as a person and a martial artist. He is truly committed to his students all of which he treats as family. William's focus has always been to make his students not only great technical Jiu Jitsu practitioners but also great people.  His dedication to his student's is something he illustrates both on and off the mat on a daily basis. I cannot ever truly express all of my gratitude and appreciation for what William has taught me not only as a student but also as a person.  William has created something far bigger than just one school or a group of schools but a strong community of hundreds. Thank you, William for building something truly unique and for allowing me to be part of it."
Jay Hume,
VBJJA Black belt
Judo Black belt endorsements for Professor William Vandry
"Mr. William Vandry is an incredibly versatile and dedicated martial artist. He literally breathes and lives Brazilian Jiu Jitsu while integrating the best that life offers within his art. As an instructor, his abiding care and concern for the continuing growth of his students go beyond the parameters of training. He has generously given of himself in ways that have holistically helped students acquire mental, and emotional as well as physical balance. During my 56 years in judo, I have never seen such a dedicated cadre of students spread over nine different locations. They display the true characteristics of students who are devoted to William's teaching and care. Students who are truly developed in a martial art will revere their mentor and display their appreciation through their adherence and preservation. In the end, this may be William's enduring legacy as his student's become mentors of others and pass on the traditions of teaching and caring. I whole-heartedly recommend William for promotion."
Dr. Stan Seidner,  Godan (5th degree), Judo
"I would like to endorse Mr. William Vandry and Vandry BJJ. I have been training with Mr Vandry since the December of 2005. I had just received my 1st degree Black Belt in Judo, and wanted to broaden my Judo game with better ground skills. Mt intent at first was to use BJJ to help my Judo, as it turns out I now use my Judo to help my BJJ. Mr Vandry is by far one of the best instructors I have ever had in any martial art form. His ability to break down techniques and verbalize how he is breaking them down is second to none. I would recommend Vandry BJJ Academy to anyone who wishes to learn the art of Brazilian Ju-Jitsu."
Geoff Dennis, Shodan (2nd degree), Judo, Blue belt (4th degree) BJJ
Community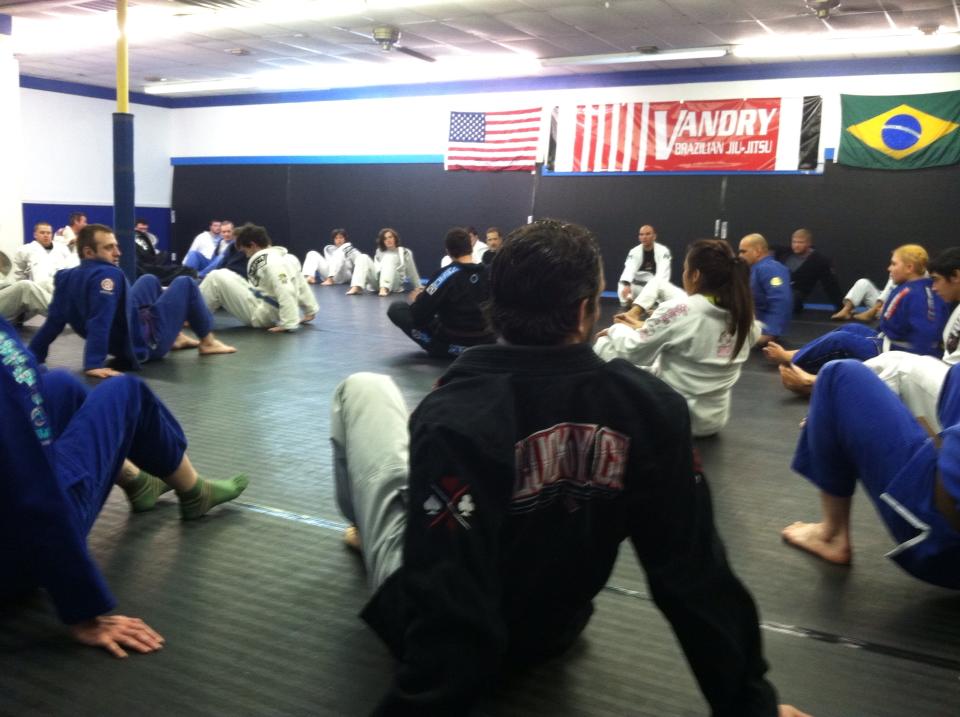 William Vandry believes a Martial artist is also under a duty to respect, and support community, and outside of the mat.  William has worked with the legally blind, support for military veterans, and society in general to help those less fortunate.
Chandra and William Vandry present a check to the Texas School of the Blind Veterans Association
William and Chandra Vandry sponsor Christmas for Eastside Austin children
If you are interested in training, developing your personal philosophy, strategy and development of a BJJ scientist with Professor William Vandry or have a child interested, or just seek information, stop by the academy for a few minutes or call 512-585-1289.